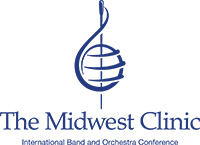 April 21, 2020
Ensemble: Cabin John Middle School Advanced Orchestra
Director: Scott Herman
Dear Scott,
On behalf of The Midwest Clinic Board of Directors and Staff, it is our pleasure to present your ensemble an invitation to perform at the 74th annual Midwest Clinic, held from December 16 – 19, 2020, at McCormick Place West in Chicago, Illinois.  If you accept this invitation, with full support of your administration or governing board, please notify Kelly Bryan, Executive Director, no later than Monday, April 27, 2020 at kbryan@midwestclinic.org. Kelly will serve as your primary contact at the Midwest office leading up to your performance in December.
To perform at The Midwest Clinic, you are required to attend a conference call on Saturday, June 6, 2020.  This is an important meeting to discuss procedures, meet the Board of Directors, and answer any questions you may have.  It is extremely important that everyone follow the procedures in order to ensure a successful conference.  Additionally, acceptance of this invitation signifies full agreement to the policies set forth within the performance application as well as your ensemble's availability anytime from Wednesday, December 16 – Saturday, December 19.  We will not honor any date or time preferences. (Please note: Ensembles invited to perform at The Midwest Clinic are required to reserve the music which they will program.  All music reservations must be submitted online, using an interface accessed through The Midwest Clinic website- which will open in May. Instructions detailing the procedures will appear in the first memo you receive from our office.  You will not be able to reserve repertoire until you are invited to do so).
Throughout the year we will work together to help you prepare for this special performance.  Please let us know if you have questions at any time.  Your first directors' memo will be sent as soon as we receive written acceptance from each invitee. Please confirm once again with your administration or governing board that they support your performance at The Midwest Clinic.  We know you will have many questions and most, if not all, of the information you seek will be covered in the memos that will follow your acceptance.
Your group will be required to stay in one of our conference hotels. These hotels offer a rate exclusive to Midwest invited performing ensembles. We will include information regarding hotel block reservations in the coming weeks.  Please note there are several inauthentic companies who promote discount rooming for our event.  Unless you have received something directly from Kelly Bryan, assume those communications are not legitimate.
Once we receive a confirmation from all invited ensembles, we will announce your performance on our website and include a hyperlink to the organizational website that you provided on your application.  If you would like to edit any of the information (i.e. ensemble name, website, location, director(s) name(s)) that will be displayed on our website, please contact the office. Additionally, if you would like to change the email address of the individual that will be responsible for the ensemble now is the appropriate time to do so. Email will be the main communication method from the Midwest office so it is imperative that the recipient of any correspondence check email on a daily basis.
Social media is forum in which Midwest regularly shares information with its constituents. Our followers love to know what kind of progress the invited performing ensembles are making on their journey to Chicago, unique stories about the ensemble, etc. For example, if you make an official announcement to your ensemble regarding your Midwest acceptance, please capture that as we would love to share with our followers. Over the years we have had some incredibly magical moments that directors have recorded of their students receiving word that they have been accepted to perform at Midwest. If at any point during your preparations you have a highlight please email them to the office.
Congratulations to you and your ensemble for having been selected to perform at the 74th annual Midwest Clinic- THE source for instrumental music education since 1946.  A wonderful opportunity awaits you and your musicians in Chicago!  We look forward to a productive year and a superb concert this December.
Sincerely,
Richard C. Crain
President, Board of Directors